New Construction
One of our specialties is the ability to construct a project from the ground up. In addition to the asphalt installation, we can provide excavation, storm work, concrete work, concrete curbs, striping and total site management. Our employees average over 20 years of experience in the paving industry, most spending the majority of their careers as employees of Len Riegler Blacktop. Our professionals will use their experience to help guide you in the right direction for your project. Just sit back and let us be your one stop shop for site work.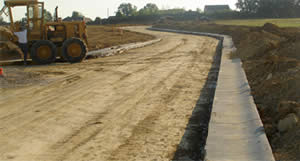 Excavation
We maintain a large fleet of earthmoving equipment and trucks to perform any size excavation job from small restaurants to large schools. Our excavation crews are experts at preparing a site for asphalt, as well as, re-grading and restoration.
Asphalt Overlays
Once your parking lot has reached its life expectancy (15-25 years) it will be time to start looking at an asphalt overlay. An asphalt overlay is installing 1.5 - 2 inches of surface asphalt over your existing parking lot. This is a viable option as long as the sub-base of your pavement is still stable. The longer you wait to get an overlay the more likely the sub-base will be compromised and the cost will be substantially higher to repair the lot.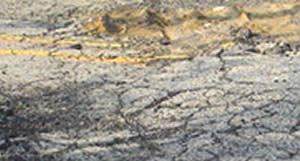 Full Depth Repairs
Any asphalt surface is only as good as its sub-base. When the sub-base breaks down your asphalt will follow quickly. These repairs are often the most expensive but, can be avoided with proper installation and maintenance of your asphalt. In some cases drain tile may be needed to divert existing underground water from running under your parking and destroying your sub-base.


Asphalt Surface Repairs
Surface Repairs are utilized when the only thing that has broken down is the surface layer of asphalt in remote areas. These areas will appear as alligatored and may be spread at various locations on your parking lot. If you have numerous areas, you may be approaching the time to look at an overlay. One of our estimators can guide you in the right direction on this decision.
Sealcoating
Sealcoating is one of the most beneficial services you can provide for your pavement. Our coal tar emulsion sealer provides a protective barrier for your asphalt. The elements then eat away at the sealer not your asphalt parking lot. This process will greatly extend the life of your pavement and restore its original beauty in the process. Your pavement needs to be sealcoating the first year after installation and every 2-3 years following depending on the amount of traffic.
Hot Rubberized Joint and Crack Sealing
One of the most important services we provide that many people overlook is Hot Rubberized Joint and Crack Sealing. Pavement is only as good as its sub-base. When the pavement begins to crack or concrete joints begin to open this creates an opening that allows water to get to the sub-base of your pavement. This can lead to a washout of your sub-base or potholes which are caused by the freeze-thaw effect. Our crews will seal the crack/joint to protect your investment from the elements. This small investment now will save you money down the road.
Sport Surfaces
Len Riegler Blacktop can give you a professional sports surface for your tennis courts, basketball courts, volleyball courts, or running tracks. We provide a wide variety of color coating options your sport courts. We also have built many tennis courts from the ground up and can provide that option for you as well.
Concrete
Our concrete crews complete various types of concrete services including new construction and various removal and replacement. We can install new concrete curb and gutter for new construction or reconstruction projects. We own our own slip form curb machine and run crews daily installing various types of curb and gutter and header curbing.